Knoxville Special Events:
Parking is free at Market Square, State Street, and Locust Street garages,
and on meters, from 6 p.m. weekdays and all day on weekends.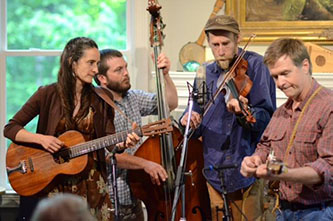 Saturday, January 23, 8 pm
The Freight Hoppers, Old-Time String Band
Laurel Theater - corner of 16th and Laurel Avenue

The Freight Hoppers have been presenting old-time string band music for more than 20 years. The band started presenting their energetic take on fiddle band music 4 times a day, 7 days a week at the Great Smoky Mountains Railway shortly after forming back in 1992. This afforded the group plenty of paid rehearsal time to hone a sound that has proven entertaining and distinctively theirs. Their repertoire includes music that was first recorded in the late 1920's and early 1930's, and spans geographically from Mississippi to West Virginia. The Freight Hoppers play hard driving old time music with an emotional, raw excitement that keeps one foot planted in the past and the other in the present. Of course that's only when they keep their feet still, for this is high energy dance music of an older day played like there's no tomorrow. Finding their passion from a love of stringband music of the 1920's and 30's, The Freight Hoppers have been entertaining crowds of fans at festivals and music halls alike as they travel around the country, and beyond. The heart of the band is held together by the fiddle and banjo combo of Barry Benjamin and Frank Lee, while the rhythm section of Mclean Bissell on guitar and Bradley Adams on string bass hold down the ensemble. Based out of the Smoky Mountains of North Carolina, The Freight Hoppers draw from a deep source of rural southern music for their inspiration, and are proud to present this music that is still meaningful today.

The Freight Hoppers are:
Barry Benjamin, fiddle
Frank Lee banjo, bottleneck guitar, vocals
Mclean Bissell guitar, vocals
Bradley Adams string bass

Tickets: $14 (discounts apply to advance purchase, JCA members, students & seniors). Tickets available through Brown Paper Tickets, by calling 1-800-838-3006 ext 1, and at the door.

January 8-29
Dr. Martin Luther King, Jr. Commemorative Commission: Gallery of Arts Tribute
Emporium Center, 100 S. Gay Street, in downtown Knoxville

This juried exhibition recognizes local artists and honors the life and times of Dr. Martin Luther King, Jr. Works included in the exhibition will feature African and African American artists in the Greater Knoxville area as well as works that pertain to the themes of Unity, Community, Love, Reconciliation, Social Justice, and Civil Rights. An opening reception will take place on Friday, January 8, from 6:00-8:00 PM with complimentary hors d'oeuvres. Gallery hours are Monday-Friday, 9:00 AM – 5:00 PM and Sunday, January 17, 3:30-6:30 PM. Please note, the Emporium will be closed Monday, January 18, for the holiday.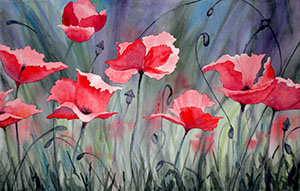 February 2-28
Art Market Gallery presents member Valentine exhibit
The exhibit, themed heART 2 heART, will feature a wide variety of media showcasing the many talents of Art Market artists. Painting, printmaking, photography, clay, glass, wood, gourds, and more will explore the Valentine theme. An opening reception will begin at 5:30 p.m., February 5 during Downtown Knoxville's monthly First Friday Art Walk, with complimentary refreshments and music performed by The Accidentals. .

Owned and operated by more than 60 professional regional artists, the Art Market Gallery, at 422 South Gay St., is a few doors away from Mast General store and next to Downtown Grill & Brewery. Hours are 11 a.m. to 6 p.m. Tuesday through Thursday and Saturday; 11 a.m. to 9 p.m. Friday; and 1 to 6 p.m. Sunday. The gallery is wheelchair accessible, and parking in the abutting garage and on the street is free on weekends and after 6 p.m. weekdays. For more information, visit artmarketgallery.net.