Knoxville Special Events:
Parking is free at Market Square, State Street, and Locust Street garages,
and on meters, from 6 p.m. weekdays and all day on weekends.
Now to November 22
Live Jazz Brunch
Five Bar, 430 Gay Street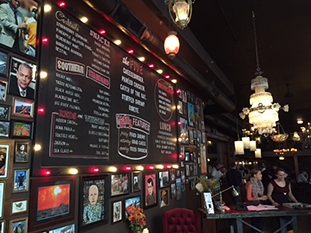 A live jazz band every Sunday from 10am-3pm during brunch service.
five-bar.com
Now to July 29 (Wednesdays)
KSDA Weekly Swing Dance
7-8 pm
Jubilee Community Arts & Laurel Theater
1538 Laurel Avenue, Knoxville TN
Vintage swing music and dancing from the early 20's to late 40's.

Now to May 29
"Hearth and Home" Exhibit
Farragut Folklife Museum
11408 Municipal Center Dr, Farragut, TN 37934
The exhibit showcases interesting artifacts from the museum's permanent collection that have not been displayed in many years or have never been on display. Spanning numerous decades, featured items include personal household items such as electronics, tools, clothes, hats and hat boxes, children's toys, and more. In addition, the vignette in the Doris Woods Owens Gallery will display furniture and household items from an 1890s-era bedroom.


Now to December 31
Architectural Salvage Program
Knox Heritage, 1300 N. Broadway, Knoxville, TN 37917
Browse through a collection of salvaged architectural pieces such as doors and hardware, wood flooring and trim, pedestal sinks, light fixtures and more. Open Thursdays from 1:00-5:00 PM.
www.knoxheritage.org

Now to September 9
Wine Down Wednesday with Acoustic Guitarist Thomas
Blue Coast Grill & Bar
37 Market Square, Knoxville TN
Enjoy half-off select bottles of wine as you listen to acoustic guitarist Thomas out on the patio starting at 6:30 pm.
www.bluecoastgrill.com

Now to November 22
Live Jazz Brunch
FIVE Bar
430 S. Gay Street, Knoxville TN
A live jazz band every Sunday from 10am-3pm during brunch service.
five-bar.com

Now to June 30
Lark in the Morn English Country Dance
Jubilee Community Arts
1538 Laurel Ave, Knoxville, TN 37916
17th-18th Century Social Dancing with live music. Sundays at 8 p.m. This is a performance group and newcomers are welcome. No partner necessary. Also Rapper Sword dance meets most Sundays at 7:00 PM. Free. Call 865-546-8442.
www.jubileearts.org

Now to September 10
Tennessee Tastes & Toasts Cocktail Tours by Knoxville Food Tours
Club LeConte
800 S. Gay Street Suite 2700, Knoxville TN
Follow Paula — make your way through Knoxville like a local, learn the history of the city, and sample delicious foods!
www.knoxvillefoodtours.com