January 4 to November 22
Live Jazz Brunch
Five Bar, 430 Gay Street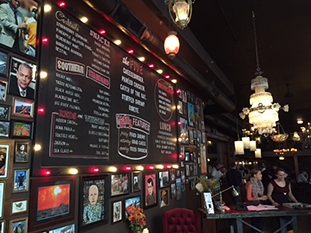 A live jazz band every Sunday from 10am-3pm during brunch service.
five-bar.com
January 1-31
Metamorphosis: Angel-Phoenix Figures
Burlington Public Library
4614 Asheville Hwy, Knoxville, TN
Metamorphosis: Angel-Phoenix Figures; Art By Theophilus

January 1 to February 1
Made in Tennessee: Milestones in Manufacturing Exhibition
East Tennessee Historical Society, 601 S. Gay Street, Knoxville, TN 37902
Today's Tennesseans, while not totally abandoning their agricultural heritage, have moved into an age of advanced technology and global competition symbolized by elelctronic, chemical production, and automobile manufacturing. Tennesseans may wear cowboy hats and listen to the Grand Ole Opry, but at work they are more likely to produce automobiles or sophisticated machinery than to till a small farm or make country crafts.
www.easttnhistory.org

January 1 to March 20
Dogwood Arts Festival: Art in Public Places
Art in Public Places Knoxville is a monumental installation of large-scale outdoor sculptures by regionally and nationally acclaimed artists. The sculptures are located in downtown Knoxville as well as McGhee Tyson Airport.

January 1 to March 21
America's First Investigation based Ghost Tour
Haunted Knoxville Ghost Tours
22 Market Square, Knoxville TN
Hands on paranormal investigation of Knoxville's traumatic past. You will be taken to factual ground zeros of traumatic happenings, but participants are given real ghost hunting equipment to use.
www.hauntedknoxville.net

January 1 to April 8
Arts in the Airport
McGhee Tyson Airport
An exhibition featuring selected artwork from 36 artists in the East Tennessee region. Features contemporary 2- and 3-dimensional artwork and is exhibited in the secured area behind McGhee Tyson Airport's security gate checkpoint. The exhibition is normally available for viewing only by visitors flying in or out of the airport. The following artists' works is on display: Sheila Chesanow of Athens; Anne Freels of Clinton; Veronica Fay of Crossville; Amy Masters of Gatlinburg; J. Brooks Brann, David Butler, Valentino Constantinou, Delia Foster, Marcia Goldenstein, William Goolsby, Beauvais Lyons, Tom McDaniel, Rose Montgomery, Althea Murphy-Price, Dick Penner, Indra Sahu, Jenny Snead, Daniel Taylor, Clay Thurston, Mary Julia Tunnell, Marilyn Avery Turner, Richardson Turner, Hawa Ware, Lida Rice Waugh, and Kurt K. Weiss of Knoxville; Steve Chastain of Louisville; Mary Bogert, Carl Gombert, Adam Griffin, John Patterson, and Bill Womac of Maryville; Eric Buechel of Pleasant Hill; Yvonne Bartholomew-Thomas of Seymour; Pat Clapsaddle and Marty McConnaughey of Sharps Chapel; Tyson Smith of Townsend. A gallery of images may be viewed at www.knoxalliance.com/album/airport_fall14.html

January 1 to May 29
"Hearth and Home" Exhibit
Farragut Folklife Museum
11408 Municipal Center Dr, Farragut, TN 37934
The exhibit showcases interesting artifacts from the museum's permanent collection that have not been displayed in many years or have never been on display. Spanning numerous decades, featured items include personal household items such as electronics, tools, clothes, hats and hat boxes, children's toys, and more. In addition, the vignette in the Doris Woods Owens Gallery will display furniture and household items from an 1890s-era bedroom.

January 1 to June 30
Lark in the Morn English Country Dance
Jubilee Community Arts
1538 Laurel Ave, Knoxville, TN 37916
17th-18th Century Social Dancing with live music. Sundays at 8 p.m. This is a performance group and newcomers are welcome. No partner necessary. Also Rapper Sword dance meets most Sundays at 7:00 PM. Free. Call 865-546-8442.
www.jubileearts.org

January 1 to September 10
Tennessee Tastes & Toasts Cocktail Tours by Knoxville Food Tours
Club LeConte
800 S. Gay Street Suite 2700, Knoxville TN
Follow Paula — make your way through Knoxville like a local, learn the history of the city, and sample delicious foods!
www.knoxvillefoodtours.com

January 1 to December 31
Architectural Salvage Program
Knox Heritage, 1300 N. Broadway, Knoxville, TN 37917
Browse through a collection of salvaged architectural pieces such as doors and hardware, wood flooring and trim, pedestal sinks, light fixtures and more. Open Thursdays from 1:00-5:00 PM.
www.knoxheritage.org

January 1 to September 9
Wine Down Wednesday with Acoustic Guitarist Thomas
Blue Coast Grill & Bar
37 Market Square, Knoxville TN
Enjoy half-off select bottles of wine as you listen to acoustic guitarist Thomas out on the patio starting at 6:30 pm.
www.bluecoastgrill.com

January 2-31
Art Market Gallery: Work by Eun-Sook Kim and Harriet Smith Howell
422 S. Gay St, Knoxville, TN
Featured artists are Eun-Sook Kim of Oak Ridge and Harriet Smith Howell of Rutledge. The opening reception during downtown Knoxville's traditional date for the First Friday Art Walk will begin at 5:30 p.m. on Jan. 2, with light refreshments and Bluegrass music performed live by Caring Committee.

January 2-31
Bliss Home: Phil Savage
29 Market Square, Knoxville, TN
Photographer Phil Savage is featured artist. Opening Reception, Jan. 2, 6:00 PM - 9:00 PM
Phil Savage was born in Mexico City and is a world-traveler, which has helped him hone his ability to "turn the ordinary into the extraordinary". Phil loves to explore the endless possibilities that photography has to offer by embracing black and white panoramic photos with hand-tinted touches. Phil's art exhibit aims to challenge viewers to rediscover the beauty and complexities that can be found all around Knoxville.

January 2 to April 18
Civil War History Cruises
Star Landing
300 Neyland Drive, Knoxville TN
NavCal River Rides Civil War History cruises use an 1864 map to help show you Civil War sights along the river. Descriptions of significant fortifications, background and aftermath of the battle of Fort Sanders. Learn about this heavily divided area and its importance because of the river and the railroad.
navcal.com

January 4 to November 22
Live Jazz Brunch
FIVE Bar
430 S. Gay Street, Knoxville TN
A live jazz band every Sunday from 10am-3pm during brunch service.
five-bar.com


Smoky Mountain Winterfest is in its 25th season. It features more than 12 million lights, enchanting light displays, unique shopping, award-winning shows, family attractions, lots of special events, and the beauty of the Great Smoky Mountains.
www.knoxvilledailysun.com
January 30, 2015 — February 8
The Man Who Came To Dinner - Mainstage Comedy
Oak Ridge Playhouse, 227 Broadway, Oak Ridge, TN 37830
In Kaufman and Hart's 1940s comedy, famed author and personality Sheridan Whiteside, invited to dinner during a speaking tour, slips on the doorstep, breaking his hip. A tumultuous six weeks of confinement follows as the irascible and disagreeable invalid takes over the host family's home and destroys their domestic tranquility with the arrival of strange and exotic get-well gifts, a parade of celebrity friends, and a devious plot to undermine his secretary's budding romance. Information and tickets: 865-482-9999
www.orplayhouse.com

January 30, 2015 — April 19, 2015
Lift: Contemporary Printmaking in the Third Dimension
Knoxville Museum of Art, 1050 World's Fair Park Dr, Knoxville, TN 37916
This is the fifth installment of an annual group show of 3-4 artists living and working in East Tennessee. LIFT: Contemporary Printmaking in the Third Dimension examines the work of international contemporary artists who use a variety of strategies to bring a sculptural dimension to printmaking. Featured artists include Enrique Chagoya, Lesley Dill, Olafur Eliasson, Robert Gober, Red Grooms, Jane Hammond, Hideki Kimura, Nicola Lopez, Leslie Mutchler, Oscar Munoz, Marilene Oliver, Dieter Roth, Graciela Sacco, and Jonathan Stanish. This exhibition is the culmination of a series of lectures, demonstrations, studio visits, and the creation of an online video archive documenting each artist's studio practice. The series is intended to garner support for contemporary art in East Tennessee, and is accompanied by an illustrated publication. Organized by the KMA. Located in the Hall & Rogers Gallery.
www.knoxart.org

January 30, 2015 — April 19, 2015
Knoxville Museum of Art: Contemporary Focus 2015
Knoxville Museum of Art, 1050 World's Fair Park Dr, Knoxville, TN 37916
Contemporary Focus is vital to the KMA's mission to support and highlight art and artists of East Tennessee, bring them together with the museum's audience in meaningful ways, and provide incentive for them to maintain their studio practice in the region. The public is invited to a free opening preview at the museum Thursday, January 29 5:30-7:30pm. Contemporary Focus 2015 artists will be on hand to answer questions about their work: Caroline Covington, Mira Gerard, and Karla Wozniak. The three artists selected have a common interest in creating works that examine the uncertain terrain between personal experience and external reality, abstraction and representation, and civilization and nature.

Contemporary Focus is an exhibition series launched by the KMA in 2009 that recognizes, supports, and documents the development of contemporary art in East Tennessee. It features the work of innovative emerging artists who are living and making art in this region, and who are exploring issues relevant to the larger world of contemporary art. The exhibition gives artists an opportunity to exhibit recent work, or consider creating a new body of work. In addition to giving feature artists the opportunity to showcase their latest work in a museum setting, it also allows them to engage with KMA audiences in gallery talks and lectures about their approach to making art, and about the challenges and benefits of basing their studio practice in East Tennessee. In several cases, inclusion in Contemporary Focus has created important new exhibition opportunities for the featured artists.
www.knoxart.org

January 31
Chocolatefest
Knoxville Expo Center
5441 Clinton Highway, Knoxville TN
It's a truly sweet event to benefit Knoxville's Ronald McDonald House. Enjoy Chocolate, Candy, Cakes, Cupcakes, and more. There will also be live entertainment, fun for the kids, and a silent auction. Includes a variety of events including live entertainment, a silent auction, face painting, and more!
Admission: Free; Chocolate Tasting Pass: $15
You will be given a box (or you may bring your own) that you take from booth to booth picking up their delicious samples and shopping to your heart's content.
www.chocolatefestknoxville.com

January 31
Ijams Gardening Series: Seed Swap
Ijams Nature Center
2915 Island Home Avenue, Knoxville TN
Annual seed swap at the Visitor Center. For all ages. Ijams' Seed Swap is a free event to promote the sharing of vegetable, flower and other seeds among area gardeners. Everyone is welcome, with or without seeds!